Posted under:
General
Posted on: November 17, 2020
Invisalign: Frequently Asked Questions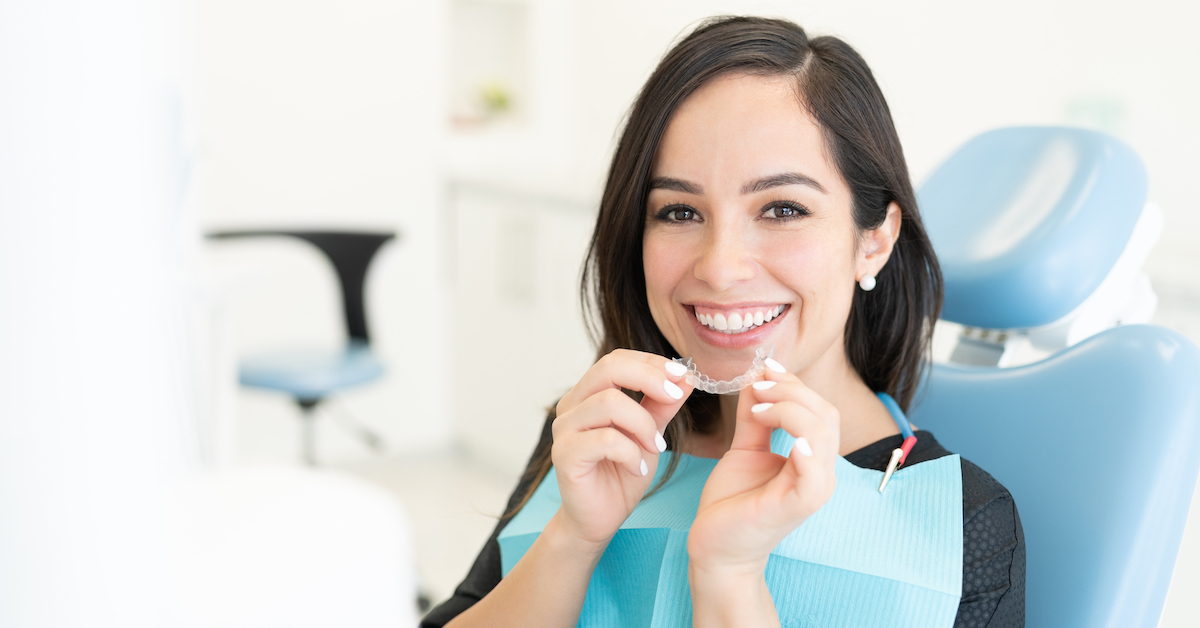 If your smile makes you frown, then Invisalign aligner trays may provide you with the beautifully straight and even teeth that you want. As an added benefit, when you have straight, even teeth, you'll have better oral hygiene because it's difficult to reach all the crevices and crannies that occur when you have a malocclusion. Best of all, the Invisalign aligner trays are clear, so no one needs to know that you're wearing braces. Read on for more information on how these modern teeth straightening trays can help you achieve your dream smile.
Why Is the Invisalign System Effective?
The Invisalign aligner trays are made of SmartTrack®, which is a clear, space-age thermoplastic that's free of BPA, BPS, gluten, and latex. It's also extremely thin and has elastic properties that enable it to fit snugly against your teeth and become virtually invisible. Unlike traditional metal wire-and-bracket braces that can cut and chafe the sensitive tissues in your mouth, the Invisalign aligner trays are comfortable and non-irritating.
You can remove the trays for special events, but you need to wear them for 20 to 22 hours each day for the trays to be effective. They require no special maintenance, just your good oral hygiene regimen, and daily cleaning.
Will the Invisalign Trays Work Well for All Dental Patients?
Most people are good candidates for the Invisalign system, but there are a few exceptions, such as those who:
Smoke
Have severe orthodontic issues
Are young teens or children, because their teeth and jaws are still changing
Lack the dedication required to wear the trays between 20 and 22 hours each day
Those who have complicated orthodontic issues may also not be good candidates for the Invisalign aligner trays, but your Invisalign dentist or orthodontist will advise you of alternatives for the aligner trays that will work for your unique needs.
Who Determines Who Is a Good Candidate for Invisalign?
Your Invisalign dentist or orthodontist will examine your teeth and gums to determine if the aligner trays will correct your orthodontic issues. They'll also evaluate your goals and lifestyle to ensure that the trays are appropriate for you. Those who smoke and are unwilling to quit, at least for the duration of the program, will probably not be good candidates for the aligner trays because nicotine damages the trays. Likewise, those who are unwilling to commit to wearing the trays for a minimum of 20 hours daily or who are indifferent to the invisibility aspect probably won't be good candidates. Those who lack the manual dexterity needed to remove, clean, and replace the trays every day may not be good candidates. If you fall into one of these categories but still want braces, then your dentist can recommend an alternative to the trays that will work for you.
What's the Procedure for Getting Invisalign Trays?
When you come to our office for your initial consultation, we'll examine your teeth and gums to ensure that the Invisalign aligner trays will work for you. If they will, then we'll formulate a treatment regimen so that you'll know what to expect during your program.
We'll make an impression of your teeth and gums, and we'll use it to fabricate your trays. You'll receive replacement trays every one to two weeks, and you'll need to come in for a progress checkup every four to six weeks. By the date of your first progress appointment, you should begin to see an improvement in your smile.
Since the trays fit so snugly on your teeth, you don't need to worry that they'll adversely impact your speech. It may take a day or two to get used to the feel of the trays in your mouth, but after the initial adjustment period, you shouldn't notice that the trays are in your mouth.
When you receive replacement trays, you may notice a slight feeling of pressure, but it will dissipate in a day or two. The feeling is caused by the new trays starting to reposition your teeth, and it's a natural part of the Invisalign process.
Must I Alter My Daily Routine When I Get the Invisalign System?
You shouldn't need to make any adjustments to your routine when you're wearing the aligner trays. However, there are a few habits that might need to change, such as:
Don't smoke. The nicotine will damage your trays.
Don't chew gum while you're wearing the trays.
Be sure to remove the trays before eating or drinking.
Be sure to brush and floss after eating and before replacing your trays.
Clean your trays daily.
Wear your aligner trays for 20 to 22 hours each day. The trays won't work if you don't wear them, so make sure you wear them a minimum of 20 hours each day.
Are the Invisalign Trays Really Invisible?
The SmartTrack® plastic that the trays are made from is extremely thin and very pliable, so your aligner trays should fit very snugly on your teeth. Unless someone is in very close physical proximity, then the trays shouldn't be noticeable. They are decidedly less noticeable than other types of braces, though.
What Happens at the End of My Invisalign Treatment?
When you're finished with your Invisalign treatment, your dentist may recommend that you wear a retainer for a while, usually less than a year. The retainer is worn only at night, and it helps to maintain the new alignment of your teeth so that they don't revert to their former misalignment.
Where Can I Find an Invisalign Dentist in My Local Area?
All dentists or orthodontists who want to provide the Invisalign system of aligner trays to their patients must be specially trained by Invisalign. Others may offer imitations, but you can only receive the Invisalign trays from a specially trained Invisalign dentist or orthodontist. If you're interested in the Invisalign system, then call Family Dental Group at for an appointment. We can help you achieve the stunning smile and healthy teeth and gums that you've always dreamed of. Call us today. We look forward to working with you.