Posted under:
General
Posted on: October 7, 2021
Understanding Sensitive Teeth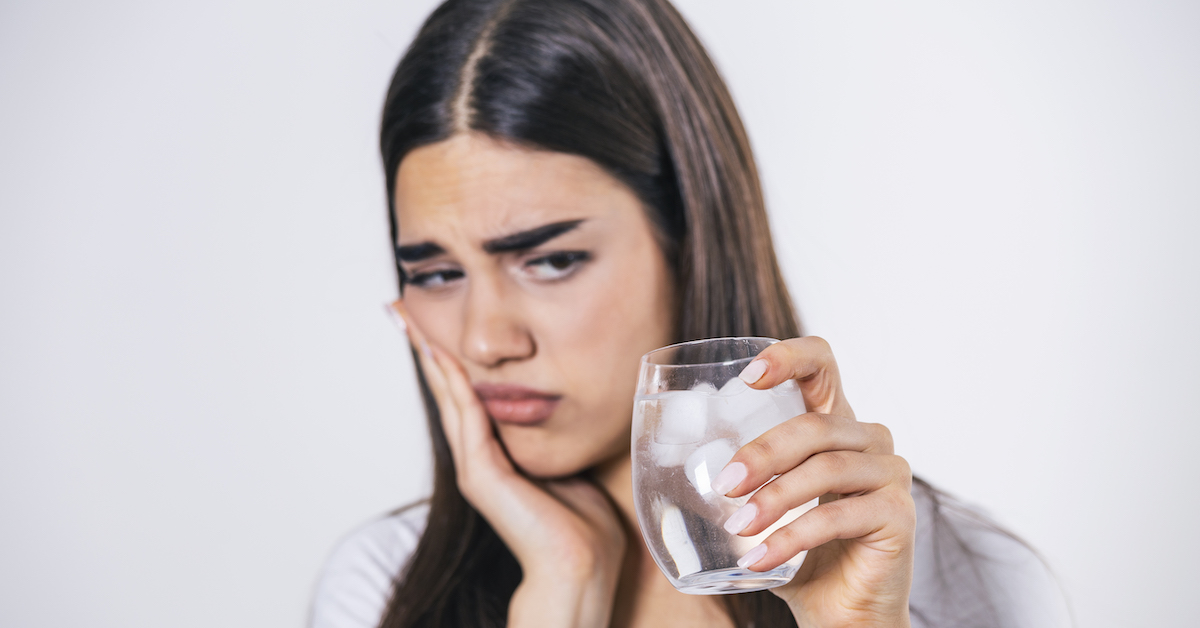 If eating hot or cold foods or those that are sweet or sour causes pain in your mouth, then you may have sensitive teeth. Although sensitive teeth are very common, it's an easily treatable condition, and you can live without tooth pain while enjoying your favorite foods.
Experiencing pain when you eat removes the enjoyment of eating, especially when it's your favorite foods that cause the pain. If you also have sensitive gums, you may have pain when performing your daily oral hygiene routine. Brushing and flossing can be excruciating, but you have to do them each day. Sometimes, breathing in cold air can cause pain, and you can feel like you're condemned to a lifetime of pain. However, a few changes in your habits and lifestyle can alleviate the pain of sensitive teeth and gums.
Often, the best place to start is with a trip to your dentist. Tooth pain usually stems from exposure of the tooth root which can occur due to decay, a cracked tooth, or a filling that has malfunctioned. It also occurs due to receding gums, gingivitis, or brushing habits that are too aggressive. All these can expose the sensitive nerves inside your teeth, so when the roots contact hot or cold foods or sweet or sour foods, it can trigger sharp pains.
There are various treatments for sensitive teeth depending on the underlying causes of the pain. For this reason, a trip to your dentist will be the quickest and most effective method of treatment. If your tooth nerves and dentin are exposed, then you can use desensitizing toothpaste. Fluoride supplements can strengthen your tooth enamel, and your dentist may recommend a sealant to prevent substances from reaching your tooth nerves.
If none of these treatment protocols are effective, then you may need a root canal. During a root canal, your dentist will remove the pulpy interior of your tooth, clean and disinfect the area, then fill the canal with a rubbery substance called gutta-percha. Then they'll put a crown over the entire surface of the tooth, which will restore its functionality.
What Are the Common Causes of Sensitive Teeth?
Any or all of the following can cause sensitive teeth. You may have several of them or you may have only one of them.
Grinding your teeth at night, also called bruxism, can deteriorate the enamel and expose the nerves of your teeth. A custom night guard, available from your dentist, can protect your teeth and dental nerves from the harmful effects of bruxism.
Alcohol and some other ingredients in mouthwash can aggravate sensitive teeth. Try using an alcohol-free mouthwash or one that's specifically designed for sensitive teeth. Don't, however, stop using mouthwash. It can remove residual bacteria from your mouth and deter the formation of decay and cavities.
Recent dental procedures can temporarily cause tooth sensitivity. However, it should dissipate within a few days. If it doesn't, then contact your dentist.
Decay around the perimeter of an old filling can indicate that the filling has failed and you have an infection or decay. Don't delay in contacting your dentist to remedy this situation, or you may develop an abscess. Usually, replacing the filling will resolve the issue.
If you have a chipped or cracked tooth, you should see your dentist without delay. Otherwise, decay or an abscess can start to form, and you might lose your tooth.
Improper brushing habits can cause your teeth to become sensitive. When the bristles on your toothbrush are too stiff, or you're using pressure that's too intense, then you can develop sensitive teeth. Switch to a soft-bristled toothbrush and brush with gentle pressure, and you should see an improvement in your tooth sensitivity.
Acidic foods such as citrus fruits, pickles, and tomatoes can cause pain, as can carbonated beverages or those that are very hot or cold. You can avoid these types of foods, or you can visit your dentist for recommendations on eliminating the pain that they cause. Several options are available that will enable you to eat the foods you like without experiencing pain.
If your gums are receding due to periodontal disease or another factor, your dentist can apply a sealant to your teeth and treat the gum inflammation, both of which may alleviate your tooth pain.
Tooth whitening products such as toothpaste, mouthwash, or whitening kits can sometimes cause your teeth to become sensitive. If you developed sensitive teeth after using them, then switch to a tooth-whitening product that's meant for sensitive teeth.
Don't continue to suffer from sensitive teeth. Although sensitive teeth can usually be treated by alterations in lifestyle habits, they can indicate the presence of a more serious condition. Make an appointment with your dentist right away to determine the cause of your sensitive teeth.
How Can I Help My Sensitive Teeth?
You don't have to suffer from the pain of sensitive teeth. The following changes may help you eat the foods you like without tooth pain.
Make an appointment with your Hudson Valley dentist to determine the causes of your tooth sensitivity.
Avoid acidic foods and beverages, such as citrus fruits, coffee, and wine. Tea, however, is typically low in acid.
Use a soft-bristled toothbrush and gentle pressure.
Use a fluoride mouthwash designed for sensitive teeth.
Get a custom mouth guard from your dentist if you have bruxism.
Use dental products formulated for sensitive teeth.
Be dedicated to your oral hygiene routine and don't skip it due to tooth pain, lack of time, or any other reason.
Your dentist is the best resource for eliminating your sensitive teeth. They have extensive experience and knowledge about dental care and the issues that adversely affect your dental health, so don't hesitate to ask them questions. Although avoiding the foods that cause pain is always an option, you don't want to go through life avoiding the foods you enjoy. If you consume acidic foods or beverages, be sure to rinse your mouth with an ample amount of clear water afterward.
Are There Dental Tips to Help Repair Sensitive Teeth?
Although nothing will replace the expert advice you'll receive from your dentist, you can adopt the following in the interim:
Try using fluoride. Your dentist can apply topical fluoride to your teeth, which will strengthen the enamel and deter future episodes of pain.
Use desensitizing toothpaste and mouthwash to keep the pain away. When used regularly, you should notice a reduction in your tooth pain.
If your gums are receding and that's the culprit for your tooth sensitivity, then ask your dentist about a gum graft.
Sensitive teeth are treatable, so don't continue to suffer from tooth pain because you have sensitive teeth. A regimen of good oral hygiene is the best defense against sensitive teeth, but you also need regular checkups with your dentist. Annual checkups are good, but every six months is even better. Don't live your life in pain. See your dentist about your sensitive teeth and start to live a pain-free life enjoying the foods and beverages you enjoy.