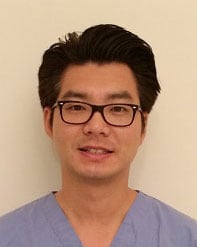 Dr. Eric Oh is a surgical specialist in the field of Oral & Maxillofacial Surgery and Dental Implants.
Dr. Eric Oh grew up in Southern California and completed his dental degree from University of Southern California with honors. After graduating from USC School of Dentistry, Dr. Oh moved to New York to pursue his specialty in Oral & Maxillofacial Surgery at the biggest ADA accredited program in the country, Montefiore Medical Center/Albert Einstein College of Medicine. Dr. Oh served as the Chief Resident at Montefiore Medical Center, Beth Israel Hospital, Bronx Lebanon Hospital, and Jersey City Medical Center where he received an extensive training in facial truama and reconstructive surgery, orthognathic surgery, dentaoalveolar and pre-prosthetic surgery, and bonegrafting and implant surgery.
Dr. Oh has extensive expertise in the treatment planning and surgical placement of dental implants, placing more than 1000 dental implants during his career. Dr. Oh is a member of the American Association of Oral & Maxillofacial Surgery, American Dental Association, New York and New Jersey State Dental Association, and International Congress of Oral Implantology.
Education:
B.S. in Biochemistry and Cell Biology University of California, San Diego 2002
DDS at University of Southern California, School of Dentistry 2006
Certificate in Oral & Maxillofacial Surgery at Montefiore Medical Center 2010