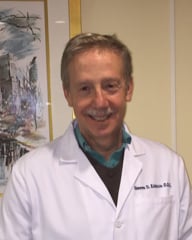 Dr. Steven Edelson is an experienced dentist with a background in general, family, and implant prosthetic dentistry. He has several years of experience helping patients with their dental needs. He is a strong proponent of utilizing the latest dental techniques and is consistently refining his skills by using continuing education resources. Dr. Edelson is compassionate with his patients, always making them smile with his sense of humor.
Dr. Edelson received his degree from New York University – College of Dentistry. He was admitted into the program after only three years of undergraduate college. He was selected by several dental residency programs for post-graduate training and chose the State University at Kings County Hospital Center in Brooklyn. He gained experience at one of the largest city hospitals in New York. He served for several years in the Department of Dentistry at Downstate Medical Center in Brooklyn and the Department of Oral Surgery at Bellevue Hospital Center in Manhattan.
Dr. Edelson also has experience teaching at the NYU College of Dentistry. He is an evaluator for Dental Products Magazine and has tested several new dental products that has been published. Dr. Edelson has experience volunteering with being a member of Dental Lifeline Network, which provides free dental care to the underserved, medically compromised and indigent individuals. He is a member of the American Dental Association, New York State Dental Association, and the First District Dental Society. Dr. Edelson fluently speaks English.
On his free time, Dr. Edelson enjoys exercising, gardening, and reading at his home in Chappaqua, New York.
Book Online Now
Complete the form below to book your appointment today.
Office Hours
Monday

9:00 AM – 5:00 PM

Tuesday

9:00 AM – 6:00 PM

Wednesday

9:00 AM – 6:00 PM

Thursday

9:00 AM – 5:00 PM

Friday

9:00 AM – 4:00 PM
CareCredit
CareCredit is a healthcare credit card designed for your health and wellness needs. Pay for the costs of many treatments and procedures through convenient monthly payments.
Our patients leave smiling


Dr. Leo checked my x-rays and showed me that I needed a cavity filled and the crown replaced. She expertly and painlessly took care of everything while making me feel comfortable and special. Liliane, her assistant was also very helpful in making me feel comfortable throughout the procedures. The Family Dental Group has taken care of myself and my wife well over a dozen years and they have helped…

Dietmar H.



I live far away and was visiting relatives when I encountered a dental emergency. FDG gave me an immediate appointment and treated me like I had been their patient for decades. This was on a Saturday. Try that anywhere else.

David S.



I absolutely love this dental group Dr. Mila, the pediatric dentist and her assistants alway make sure my boys are comfortable and pay special attention to them during their visits. I was always nervous taking my boys to the dentist until we found this dental group, the boys look forward to going and myself and my husband have also become patients of the group. The staff is professional and accomm…

Shanda M.



I was very pleased with my experience at Family Dental Group. It was good to be treated with professionalism and care. Everyone was very nice, and it is nice to be treated well since you are the patient in need of help. Caring, smiling and laughing is good atmosphere for patients.I was very well taken care of and will continue to come here.

Anonymous



I'm sitting here for the 2nd time this month, my son is getting some cavities filled and Dr. Mila is singing and he is giggling hysterically, trying not to move! I'm so happy we came here and so very satisfied with our experience and the staff here. I've never had such an awesome experience with a dentist before, Dr. Mila and her dental assistants (Mrs. Wendy !) are absolutely fa…

Nira R.



I was very happy with the work being done on my teeth, my mouth looks amazing dr.friedman is amazing I felt very comfortable not nervous at all. I feel like a new person great work the staff is amazing very polite, helpful looking for a dentist this is the place

Margaret W.



Amazing dentists. Dr Stein & Dr Chernin have done so much amazing work on my teeth (mostly root canals and crowns). I choose to drive 30 minutes to this location to see Dr Chernin rather than go see another dentist at the location 2 minutes down the street from me. The rest of the staff is very friendly and helpful as well.

Christine B.



My name is Allen. I'm 15. I started to see Dr. Mila Belgrade when I was younger and I remember my first visit with Dr Mila. I was so scared but Dr Mila helped change my view on dentists and since then I didn't think of the trip to the dentist as scary but instead enjoyed my visit. Dr Mila and her assistant Wendy are two of the best dentists at Family Dental. They are kind, caring, and compassi…

Allen R.



Dr Mila is one of a kind! Very patient with my toddler. We enjoy going to the dentist.

Christina C.



Dr mila Belgrade and assistant eva are the best I feel happy how treat mia and very clean thanks

Edwin M.



Dr.Mila and her assistant Ewa are excellent with young kids. I haven't ever seen before a child gets excited about his or her visit to the dentist, but my children get. Dr.Mila and Ewa, are creative, patient, professional, kind and very careful. Dr.Mila definitely knows how to give kids a beautiful pain-free smile. Thank you so much!

Roberta H.



Very thorough, efficient. Great staff.

Heather S.



Everything was great

Constance D.



Had an appointment yesterday with my 2 special needs kids. What an absolute AWESOME Dr Mila was. She was so sweet and caring. My kids absolutely loved her. And she didn't mind the many questions. Even when she was busy in my kids mouth. Very professional, knowledgeable, and caring.

Anjoeline O.



I had a cleaning done with Star. She is one of the best hygienists I have ever been to. The whole office was pleasant and I enjoyed my experience.

Richard M.



Dr Mila is amazing! Thank you for making my daughter feel so comfortable and not scared at all I appreciate you and all that you do !

Rebecca Y.



Dr Friedman explained everything in detail. Staff was warm and inviting. Filling forms out on line was much better than doing forms in the office before the appointment. Would recommend this Dental facility highly.

Richard P.



I am writing for myself (Elisa) and my husband who both went to this office in the past week. They are exceptional – from Stacy at the desk to Melissa, to Liliana to Dr. Chernin – they handled our concerns with care, and explained things in detail so we could understand and make informed decisions. Dr. Chernin was amazing – I did not feel a thing when she extracted a tooth. After…

Kevin M.



I have used many dentists throughout my life, and I find the Family Dental Group to be among the most supportive, gentle, and competent teams I've visited.

Anonymous



I came in for my first time, experiencing severe tooth pain and the hygienist and dentist were amazing and so caring. I got my tooth out and as bad as that is, my experience with them was amazing. I will definetly be back.

Amy C.



My family and I love this Dental group. The staff is very friendly and they make your visit enjoyable. Dr. Mila Belgrade is so nice she makes your visit very comfortable and she is easy to talk to if you need advice. My brother and my cousins really enjoy having her as their dentist. My dentist is Dr. Atwell she is great, she makes your visit very enjoyable. She is really kind and makes sure that…

Nushe H.



professional and rewarding experience

John O.



I needed work done due to a chipped crown. The assistant and the dentist were both very professional, courteous, friendly, and informed me of everything they were doing. They were also helpful with my additional questions as I feel I may need/ want other work on my teeth.

Carol R.



It was a great experience

Edelmira B.



My children and I love Dr. Mila Belgrade and Nicole! They were very gentle and made us laugh throughout the appointment and that helped put the boys at ease!

Crystal M.



I was brought right in and made very comfortable. They explained everything and made the procedure as easy as possible

Christina M.



I loved Dr. C. She was great. I have never had a cavity before and she put me right at ease about the procedure and what to expect. She was awesome!

Holly T.



Dr.Mila is the best. After being terrified of dentists for years, my daughter actually loves to go see Dr.Mila. The front office staff are a pleasant change from our previous dentist. Thanks to Dr.Mila, all of us switched from our previous dental office! Dan and Dr.Atwell, as well as Dr.Deans, are wonderful as well.

Yanks R.



Excellent job, my dentist was very caring and nice, letting me know everything she was doing before she did anything and then showed me exactly what she did when the root canal was over. She is an awesome dentist made me feel so comfortable!

Edward C.



Always a pleasure going to Family Dental. Dan is a wonderful hygienist!

Anonymous



My grandkids LOVE going to the dentist. Dr. Mila Belgrade and her assistants Wendy and Liliana are so sweet and caring. " Ava and Livvy say "they do a really good job on our teeth" "they make it fun to go to the dentist

Chris K.



Everyone was extremely helpful. Great bedside manners. I felt very relaxed. All my questions were answered professionally and I plan on staying with this Dental group.

Christine M.



Easily the friendliest and most professional dental experience I've ever had. Starting with phone scheduling with Debbie and welcome greeting with Linda. Dan put me at ease while cleaning my teeth. Dr. Atwell arrived with a smile (and good literature knowledge :) and, as I was leaving, a pleasant farewell from Mellissa. Thank you all.

Thomas C.



I have not been to the dentist in years due to a bad experience with another dental group. My son needed a dentist and we found Family Dental Group on-line. They were amazing with my son (who is preschool age) so I made an appointment for myself. Everyone was wonderful and extremely friendly. They explained everything to me before they did any work which really put my mind at ease. I am glad to ha…

Holly T.



Everything was really great!

Jaci M.



Very friendly and very accommodating. Love this practice! My kids are especially fond of their peds dentist too!

Vicky K.



Great" – Dr. Eva is wonderful, my son loves her. The staff are very friendly and the place is very clean.

Blerina G.



They were very patient and kind with my son.

Daniel J.



Amazing experience. Lillia, Dr.Atwell, Wendy, and the rest of the staff were simply wonderful. Made a otherwise unpleasant experience of getting cavities filled pleasant by the level of comfort and friendliness.

Jaclyn R.



Great employees, such a friendly and comfortable environment, and Dr. Dean really knows what she is doing!!

Kylie R.



I initially went here because my regular dentist doesn't do root canals for some reason. Been there 3 times now for a painless and effective root canal by Dr. Stein, a thorough check up and cleaning which resulted in two small fillings also painlessly done by Dr. Atwell. She had a wonderful pleasant nature and kindly described what she was doing every step of the way. I'm glad I decide…

Phil G.



Dan the hygienist does a wonderful job on my cleaning and gum treatment I would not go to another person been coming here over 5 yrs very happy thank you dan

Lisa M.



We have always had excellent treatment from the entire staff. Dr. Stein and Dr. Friedman have been so great.

Andrea W.



Dr. Stein and the staff are great. I get very nervous at the dentist and they are very patient with me.

Diane T.